Post by Phantasma on Feb 11, 2020 18:08:23 GMT -5
6:00 PM, Angel Beach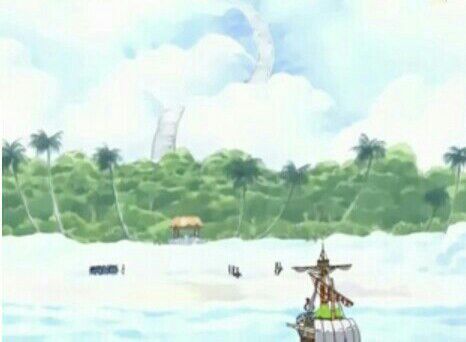 ---
This is it, done in by my own techniques. Suppose there's a bit of irony there, call that job satisfaction because I sure don't. This and many other thoughts precipitated out of the vaguely conscious Ex-Bounty hunter who as much from the lack of oxygen as having the wind knocked out of him by sonic attacks, was starting to lose consciousness. Somewhere along the flight up he had gone limp and stopped trying to adjust his trajectory or even think about cushioning his landing, it's why he kept his eyes shut up until he started digging through the various layers of the Island cloud above. A fall from this height and the marines would need a bucket to collect what was left of him.

So engrossed in his own demise that it was easy to forget he had stopped moving, had pierced through the worst of the fluffy white and managed to wash up on the shores of Skypiea. Like some kind of idiot all Kite could do was lay there on the beach shoreline and hope his end could arrive swiftly.

A distinct lack of oxygen forced the hunters hand, there were limits to how long he could hold his breath.

"Huuuuuuuuuhhhhh!" Mouth springing open he sucked in a stream of oxygen, simultaneously opening his eyes in disbelief.

"I'm not dead?" Hands reached up to touch upon his slightly bruised face, tracing around his cheek bones and running through his slightly grayed hair.

"ow..." Some parts of his face-- no his entire body was sensitive and awkward with sensation.

Burning fuel had engulfed his body well before he got shot up in the air, singed off a good portion of his clothes. Chest completely naked, bare, muscled up, looking down he very nearly reminisced on all the hoops that led him to developing his physique but he stopped just below the belt line. His pants had survived but just, just barely. Around the ankles the black fabric had become frayed and his boots singed and dirtied. Frankly it was a mystery how his top half had been sacrificed but his bottom remained-- and still this full body tan was present!

Ordinarily snow white skin had taken on a very new shade. Fair, more than fair, it was like a farmers tan only noticeably lighter. Warm Ivory? If there could ever be such a term.

"I'm... I'm not dead," Rising to his feet unsteadily a smile cracked across his face, hands bracing themselves on the weapons hanging from either side of his hip.

Nervously flicking across their hilts Kite examined his environment, keen to see where he had ended up and how he had managed to fling himself up here. Memories still fresh in his mind told him a sonic attack, his and that... villains... they clashed and managed to create some kind of really strong shock wave. After that the resulting force threw the swordsman high into the sky, broke clear past the basement of this beach and resulted in what he saw now. Disbelief had him dashing towards the shoreline until water licked at his boots, eyes widening when the gravity of the situation hit him.

"A land... a land in the sky. Like the stories-- I'm here! After everything I managed to come all the way up here haha! This... this is exactly what I needed!" Survivors high didn't wane, his eyes closed from how wide his smile got at the unexpected development.

Spinning around for a bit with his arms waving around in the air the would-be-criminal celebrated his new found freedom. Halting mid spin when the rising dizzying sensation got annoying, eyes admiring the blurring imagery of the palm trees, the greenery, the furniture.

"Furniture?" Brows quirked Kite shifted focus from dancing his happy dance to investigating the curious platform jutting out from the jungle.

More like a deck it had a set of five stairs, wooden like the platform, which hooked onto its left side. The raised wooden structure lacked a fence but had poles set up in all the corners, four well crafted structures which held up a brilliant blue tarp fabric that kept out the worse of the suns rays. Two very plush white chairs were the major focus for a solid minute, tentatively being poked by the huntsman until he selected the furthest one from the chair to lay down on and stretch. In undulating waves the plush material managed to relieve tension from his knotted back and he couldn't help but let out a satisfied sigh as he fought to keep his eyes open and aware of his surroundings. Keenly aware, now, that this wasn't exactly an exotic location.

In fact, if this really is like Mothers stories... then there should be a civilization of some kind. Huh. Not often you see books translate so well to what the real world is like-- well... myth's or family history anyway, nodding his head as he thought loudly to himself Kalisto sat up in the poofy 'L' shaped chair.

"Haaa... just when I thought I caught a break after all this madness."

Pinching the bridge of his nose tightly and then moving both hands to massage his temples the tension of the previous few days returned to the front of the not-so-albino's mind. He needed to lay low while the Marines searched for him, depending on what happens here this could be a very quiet or a very loud few days. Forming mental pictures to every word, to every rule it was like setting in concrete. Whatever joy survival brought the grim reality of the snow-haired warriors current predicament sobered him enough to return a few knots into his back and play havoc with his guts. Instead of dancing and shouting with joy like he had been, now came the silent numbing of worry, regret.

I need to make sure Mom... the others... They need to be safe rather than pay for my mistakes, nearly chewing a hole out of the inside of his cheek a noise got the contemplative male to freeze.

Red, suddenly energetic eyes darted and a few twists of the neck had him honing in on the source of the noise. Steadily sitting up the tanned, lithe figure considered the thick greenery to his back and squinted. Voice hard, cold and above all else loud enough to carry multiple feet.

"I've had a very long day, please stop hiding in the bushes."